Top Nail Salon In Medford Oregon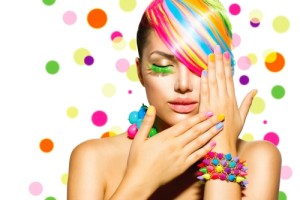 Just like your hair, your nails are an extension of you and your personality. Let our nail techs give your nails the look, color and style you want. From simple nail repairs to full manicures and pedicures are nail techs do it all.
Our nail salon is anything but cookie cutter. We are very creative with our nail designs and with over 350 nail polish colors to choose from you are sure to get the look you desire. We can even custom mix different colors and glitters of your choice.
While other nail salons may take up to two hours. We typically can have you in and out within an hour. Plus you will really enjoy your time here as both Dusti and Katie are super friendly, super fun and truly enjoy spending time chatting with their customers.
Get your hands and feet looking their best with our full service nail salon:
What are you waiting for? If you are looking for a fun and friendly nail salon in Medford that will get your nails looking their best, call Cuttin Up Studio now.
| Service | Price |
| --- | --- |
| Gel polish | $35 |
| Multicolor Set | $50 |
| Drill Out & Change Color | $50 |
| Acrylic Removal | $20 |
| Acrylic Toes | $40 |
| Manicure | $40 |
| Pedicure | $45 |
| Toe Nail Trim | $15 |
| Polish Change | $25 |
| Nail Repair | $7 |