Body Piercing in Medford Oregon - Mother Approved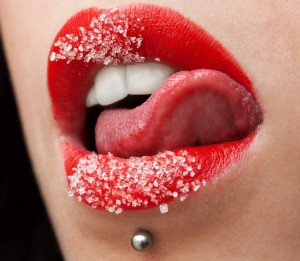 Looking for body piercing in Medford? Cuttin Up Studio is a great body piercing alternative to the local tattoo parlors. Our family friendly salon is mother approved and we only pierce above the belt line.
Sonja Beal has been performing piercing for 17 years, is state licensed and keeps up with the trade and best practices through yearly education. Virtually all of her piercing clients are by referral only.
If it is above the waste she will pierce it.
Ear Piercing: Lobe, upper lobe, helix, industrial, snug, orbital, outer conch,  transverse lobe, anti-tragus, inner conch, tragus, daith, forward helix, rook.
Lip Piercing:  Labret, Monroe, medusa, vertical labret, snake bites, angel bites, cyber bites, dahlia bites, canine bites, spider bites, dolphin bites and shark bites.
Tongue Piercing: Smiley, Frowney, vertical, double, under tongue
Nose Piercing: nostril, high nostril, septum
Eyebrow Piercing: standard
Nipple Piecing: standard
Belly Button Piercing: standard
Microdermal Piercing: body art piercing
What are you waiting for? Call Cuttin Up Studio to schedule a piercing today. A great alternative to tattoo parlors for body piercing in Medford Oregon. Enjoy and relax in the family friendly atmosphere today and feel comfortable knowing you are in the hands of a piercing professional.
| Service | Price |
| --- | --- |
| Beauty Mark | $20 |
| Nose | $20 |
| Dermal | $30 |
| Eyebrow | $20 |
| Labret | $20 |
| Navel | $20 |
| Lip | $20 |
| Septum | $20 |
| Tongue | $20 |
| Smiley | $35 |
| Madusa | $35 |
| 1 Nipple | $20 |
| Both Nipple | $40 |
| Conch | $20 |
| Ear Cartlidge | $20 |
| Earlobe | $15 |
| Both Earlobes | $20 |
| Helix | $20 |
| Daith | $20 |
| Industrial | $40 |
| Rook | $20 |
| Tragus | $20 |
| Under Tongue | $35 |
| Surface to Surface | $35 |